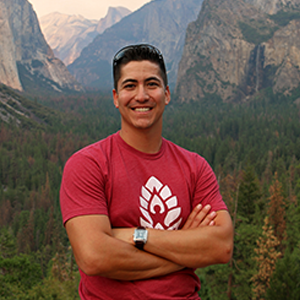 Abe Padilla
Mineral Commodity Specialist, National Minerals Information Center (NMIC), U.S. Geological Survey

---
My experience as a geoscientist has enhanced the way I look at nature, and makes my time spent outside that much more enjoyable!
What Organization do you work for?
National Minerals Information Center (NMIC), U.S. Geological Survey
What is your official title and what would you call yourself (geologist, hydrologist, geochemist, environmental scientist, etc.)?
My official title with the USGS is "Physical Scientist," but within my science center I use the more relevant title of "Mineral Commodity Specialist." In general, I like to refer to myself as a geoscientist or geochemist, although in my current capacity I think of myself more as a mineral industry analyst.
What attracted you to the field of geosciences?
I spent a lot my childhood years playing in the volcanic canyons of my home range (Jalisco, Mexico), and have always had an affinity for spending time in the outdoors. As I grew older and progressed in my education, I began to take more interest in learning and understanding how the natural world around me was formed. Joining the field of geosciences in college offered me the perfect opportunity to merge these two interests, and allowed me to continue spending time outdoors (something I already loved) but this time as part of my education, and eventually as part of my job.
What do you do at your job day to day?
In my role as a Mineral Commodity Specialist, my job is to collect, analyze, synthesize, and disseminate information about mineral commodities (that is, minerals with an economic value) that are important for the U.S. economy. The public-access reports that we produce at NMIC typically present data on the global production, trade, consumption, recycling, reserves, stockpiles, and prices of mineral commodities. In these reports we also discuss important trends, events, and legislation that could affect the minerals industry. Examples of my day-to-day activities include collecting data from mining, processing, and refining operations in the U.S. (which is done via USGS surveys and often via phone calls to company representatives), collecting and compiling mine production data from other countries, collecting and compiling trade (imports and exports) data from the U.S. Census Bureau, putting together data tables for our various publications, responding to public inquiries about the minerals industry, reading news as well as company and industry reports to stay up to date with the minerals industry, and writing and peer-reviewing our final NMIC reports. Other "seasonal" activities include attending industry conferences, doing site visits to mining and/or processing operations in the U.S., and special projects on the minerals industry in collaboration with other U.S. government agencies.
What do you enjoy most about the work you do?
One of the most enjoyable aspects of my job is that I get to regularly interact with a variety of people in other lines of work (for example: economists, mining engineers, business people, national security personnel, policy makers), which helps put into perspective the value of the work that we do and the reports that we produce here at the USGS. I also truly enjoy working with data, and I find the process of collecting, compiling, synthesizing, and presenting that data (in tables, figures, etc.) to be quite enjoyable.
What about your job do you find most challenging?
Presently, my job is to track and understand the niobium and tantalum industries. These metals are not mined in the U.S., so I am 100% reliant on reports from other countries, and companies in those countries, to obtain data and information about production and the industry. This is often a very challenging task because 1) some countries do not require companies to report on their mining activities, 2) these metals are not openly traded in the market (they are traded via private agreements) and companies will strongly protect their data, and 3) because they are not openly traded, consumers of these metals in the U.S. will also protect their consumption data. So, all around, data can be very difficult to obtain. And a data table without data is a sad data table.
If you could go back and give your college self one piece of professional advice, what would it be?
Get involved! Internships, projects, research, and volunteer work all add a valuable dimension to your education. It's one thing to learn things in a classroom setting; it's significantly different to learn things in an office/lab/field/real world setting. Involvement in extracurricular activities gives you a great taste for how you'll be applying all the knowledge you're gaining into solving problems and completing tasks in your future job(s). It will also help you figure out what you want that future job to look like. It's experience that you simply will not get sitting in a classroom.
Haw has being a geoscientist changed the way you view the world around you, and if so, how?
Overall, my education in science gives me a greater appreciation for some of the simplest things I encounter while in the outdoors, like little patterns and colors in the rocks, or plants that only grow on very specific surfaces. My experience as a geoscientist has enhanced the way I look at nature, and makes my time spent outside that much more enjoyable!
In my current job, getting all the information for our reports requires us to dive deep into the minerals industry so that we can have a good understanding of how it all works. This has helped put into perspective how reliant we all are on the mining industry to produce the raw materials necessary for things we use in our day-to-day lives (everything from electronics and machinery to simple things like our kitchen silverware).
---